The First ever Asian Coaches Meeting at the 2012 NCAA Final Four Championships in Houston, Texas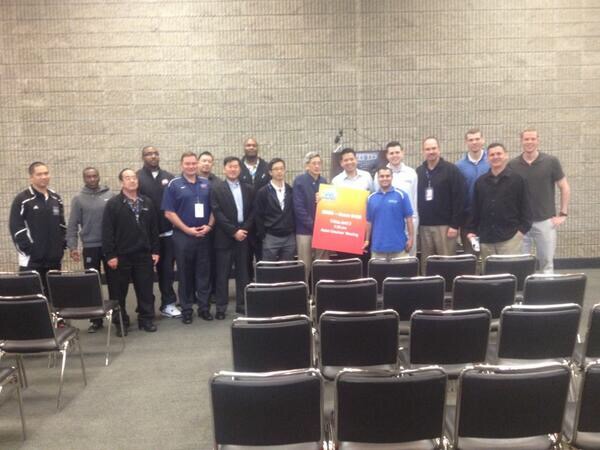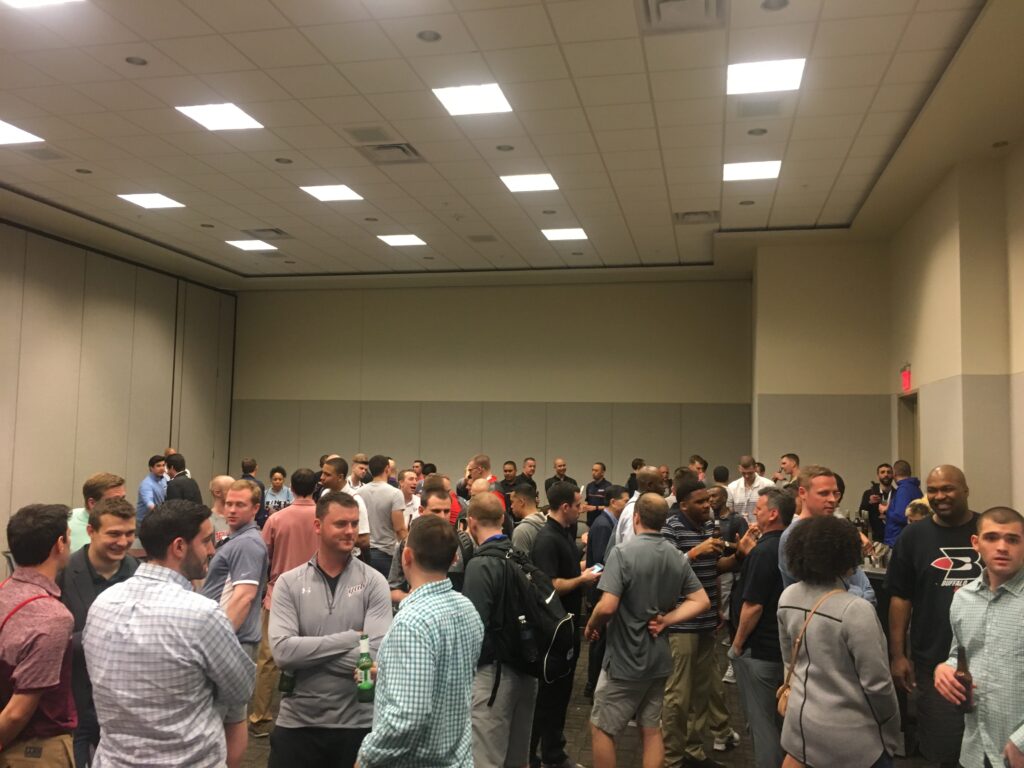 A Photo from the 2017 Men's Final Four Asian Coaches Mixer in Phoenix, Arizona
Our Story
In 2011, current President Mike Magpayo was sitting in the Columbia University Men's Basketball Coaches' Office, where he was an Assistant Coach, when his Head Coach at the time, Kyle Smith (Washington State Head Coach) suggested that he start an organization much like the Jewish Coaches Association to give other Filipino-American coaches a network in the College Basketball Coaching world. Also in the room brainstorming was another Columbia Asst. Coach Koby Altman (current Cleveland Cavaliers GM). After much discussion about this potential project, they came up with the idea to encompass all Asian Coaches or coaches of Asian Decent. What was born that day is what is now called, The Asian Coaches Association, aka the ACA.
The first event was thrown at the 2012 Final Four in Houston, Texas where we had legendary Coach, Jeff Hironaka (Wash State Asst. Coach at the time) speak and inspire the 15 or so people that came to the event. In 2013 we had some small sponsors cater the event and we grew to about 25 people on the Men's side and we started the Women's event as well managed by now Vice President Steve Yang (Georgetown Women's DOBO).  Since that time, we have now gained large support from major companies in athletics such as Teamworks INC, Teamsynced, Open Look Analytics, Fast Model Sports, STATS SportsVu, etc. The annual event at the Final Four now has 130 plus attendees on the Men's Side and 60 plus attendees on the Women's side.
We would be remiss without thanking many for their support early in our inception.  First, Kyle Smith for spawning the idea of The Asian Coaches Association with President Mike Magpayo (UC Riverside Assistant Coach). Much credit goes to many who have supported the event since its inception including Jeff Hironaka (Colorado Christian HC), Shenton Wai (Denver Nuggets), Matt Okada (Cal Poly Pomona), Koby Altman (Cleveland Cavaliers), Dan Geriot (Cleveland Cavaliers), Carlin Hartman (Oklahoma Sooners), Kevin Hovde (Univ. of San Francisco Assoc. Coach), Todd Golden(Univ. of San Francisco Head Coach), and John Andrzejek (Dartmouth Asst. Coach).
Mike Magpayo
President of the Asian Coaches Association Mike Magpayo has been coaching basketball now for 20 years. Mike is a first generation Filipino-American. His Parents Lito and Nenet Magpayo were both born in the Philippines where basketball is the National Sport. Magpayo is currently an Assistant Coach at UC Riverside in his 1st year and is tasked with building a program with current Head Coach David Patrick.
Mike Magpayo came to Riverside fresh off a one-year stint as the men's basketball director of operations at the University of San Francisco. During his year at USF, the Dons finished with 22 Wins, 4th in the WCC, with big wins over ranked teams Nevada and St. Mary's. The Dons made it to the Championship Finals of the CBI Postseason Tournament.
Prior to his time at San Francisco, Magpayo spent three seasons at Campbell University in the Big South Conference, where he served as the defensive and recruiting coordinator. As Defensive Coordinator in 2016-17, he helped put together one of the best seasons in school history, as the Camels advanced to the conference championship game as well as the CIT quarterfinals in the program's first postseason appearance since 1992. Campbell's defense improved dramatically under Magpayo's newly implemented man-to-man system in his final year with the Camels, as the team improved their defensive field goal percentage from 292nd in the country to 169th overall, and rated 108th in 3pt FG% defense.
A Hacienda Heights, Calif. native, Magpayo was also an integral part in bringing the Columbia University program and newly appointed Head Coach Kyle Smith to the most successful 4 year run in Columbia history. Magpayo served as Director of Operations for one season, creating and maintaining a state of the art recruiting database and building the infrastructure of Smith's statistics-heavy program. He was then promoted to Assistant Coach where he served as recruiting coordinator and scheduler during the span where Columbia knocked off Villanova and nearly posted upsets of No 1 teams, Michigan State and Kentucky.
Before chasing his dream of coaching at the college level, Magpayo was CEO and founder of a multi-million dollar real estate firm in Southern California from 2003-2010. During this time, he also coached at Southern California High Schools which he did while in college.  He graduated from UC Santa Barbara with a degree in business economics in 2001.
Magpayo resides in Riverside with his wife Caroline, who is a UC Riverside alumna, class of 2011.